- Free E-Book -
The Truth About "Natural" Healing -
- Ten Things You Should Know
1. -- What IS It -- REALLY?
Scientific "Alternative Medicine"?
OR Psychosomatic Occult Superstition?
A CONCEPT OF HEALING as old as life itself, truly natural healing is simply an extension (and support) of the continual repair and maintenance that goes on inside all living things.
Imitated, corrupted, misunderstood, maligned, it is neither "psychic healing" nor "spiritual guidance", but true physical, biological healing - "holistic" therapy (healing the whole living organism not just a "disease" or it's symptoms) - learned from observing life in the NATURAL world, NOT the LABORATORY - or the PARANORMAL.
Is it "COMPLEMENTARY? alternative MEDICINE?" Depends on your definitions and objectives. It IS undeniably an emotional and controversial topic! Almost like religion. Maybe it IS some people's "religion". But let's limit this discussion to PHYSICAL life in the NATURAL world - and FACTS. No hype! Neither "blind credulity" nor the "eternal skeptic". No "witch doctors" or "medicine man". Nor much of anything else you've heard, thought, or believed, probably. Not even "traditional meditation".
Granted, SOME "psychological" therapies CAN be helpful, but when your home needs repairing, you need more than inner calm and a positive attitude. You need quality building materials and competent construction. Same with your body. And since "psychosomatic healing" (so-called "placebo effect") is the only concept many people have of "alternative medicine"/ "natural" healing/ holistic therapy, no treatment that has strong ties to any religious or spiritistic origins will be considered (even though some of them also have non-religious, non-spiritual, entirely physical aspects). This way we can concentrate solely on physical and biological therapies for the human anatomy and physiology and not be "comparing apples with oranges".
The real focus, in fact, is not on ANY SPECIFIC illness or therapy. Rather, since half the advertising and MOST of the objections regarding these diverse but interrelated healing efforts are so much hype, the main objective here is to draw attention to some BASIC CONCEPTS nearly all non medical and other alternative physicians - such as Chiropractors, Homeopaths, Naturopaths, Acupuncturists, and Herbalists - share in common. Explain the FUNDAMENTAL DIFFERENCE between most of the "natural" or "holistic" healing therapies and allopathic medicine or "regular medicine" (also called conventional medicine, Western medicine, clinical medicine, mainstream medicine, standard medicine, and orthodox medicine). Clarify the issues. Separate myth from reality. And correct widespread claims & common objections.
---
Look for the linked list in the side bar on the right of each page. It's recommended that you start at the beginning and read them in the order shown. They're conveniently (I hope) linked to each other in that order because each lays a foundation for what follows. But if one topic seems especially needed in your life right now, it shouldn't be incomprehensible without the others.
---
To those who insist there's a lot of quackery or "snake oil" in all of this it's freely acknowledged that many fads, unsubstantiated claims and other sensationalism are out there. ANOTHER NEED FOR SEPARATING MYTH FROM REALITY! But remember that some medical professionals who sharply disagree with one another call each other "quacks" also; while many people who have the negative MISCONCEPTION that all NON MEDICAL therapies have "spiritistic" connections forget that some medical doctors employ hypnosis.
Vital information for both the uninitiated and those who "know all about it".

---
A Short "Guided Tour" based on sixty-years' research, observation, and personal experience.
---
IF you're returning from "off-line" and the links don't work,
Please Click Here
to "Refresh" the page.
---
Park Service Guide at Grand Canyon National Park, U.S.A.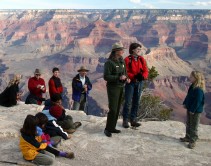 Photo by Mark Lellouch, U.S. National Park Service

"Comparing Apples with Oranges?"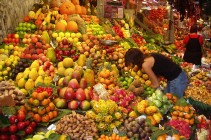 Fruit Market, Barcelona, Spain.
Photo By Wikimedia Commons contributor Daderot.
---
The Truth About "Natural" Healing -- Ten Things You Should Know

1. What IS It -- REALLY?
Scientific "Alternative Medicine"? OR Psychosomatic Occult Superstition?
( THE PAGE YOU ARE NOW READING.)

2. The Issues --
Widespread Claims & Misconceptions

3. Is It Safe?

4. Is It Scientific?

5. Is It Legal?

6. What's the REAL Problem?

7. Is It Enough? --
Growing Up REALLY Drug Free - A True Story

8. Is It For YOU?

9. How Does It Work? --
Unconventional Concepts of Illness & Health - You May or May Not Have Considered

10. How You Can Learn More
-- Sources & Resources